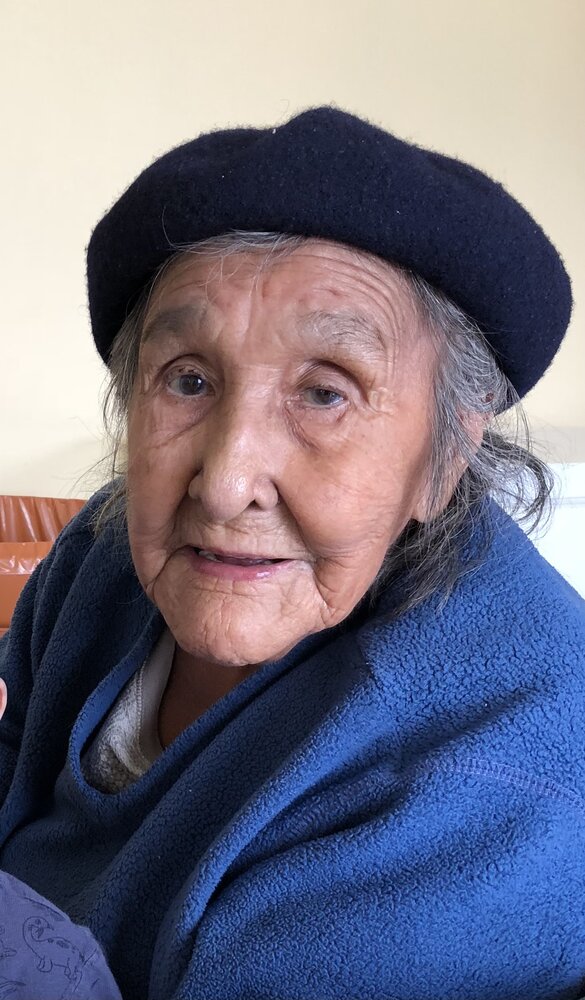 Obituary of Melanie Matchatis
Please share a memory of Melanie to include in a keepsake book for family and friends.
With saddened hearts but memories to cherish of a life well lived the family of Melanie Matchatis of Cold Lake First Nations announces her passing on Friday, April 1, 2022.
Melanie will be forever remembered and loved by her three children: Robert (Julie) Matchatis, Ronnie Matchatis, Linda Matchatis; eighteen grandchildren: forty-eight great grandchildren; fourteen great great grandchildren; sister: Thelma Redcrow.
Melanie was predeceased by her husband: Henry; children: Rita, Melvin, Ernie, Gary, Berton, Gerald, Allen; grandchildren: Barry, Jody, Mitchel; great granddaughter: Shatima; parents: Josephine & John Blackman; siblings: Baptiste, Albertine, Anne.
Wake, Tuesday & Wednesday, April 5 & April 6th, Cold Lake First Nations Band Hall.
Mass of Christian Burial, Thursday, April 7, 2022 at 11:00 a.m. conducted by Celebrant Father Thomas Dieu Nguyen with interment to follow at the Cold Lake First Nations Community Cemetery.
Lord, I have this very wonderful friend and I would like to thank you with all my heart, for creating her and letting her enrich my life.
Thank you for all the years we've known each other and the confidences and hopes and troubles that we've shared.
Thank you for the understanding we bring to each other, for the patience we have with each other's faults;
for the advise and even the scolding's we are able to give each other without either of us taking offense.
Thank you for the help we have been to each other-in this way, and so many more.
Thank you that because of her I am a better, happier person, and that she has grown as a person too, because of me.
Thank you that she would give me anything in her power-time, money, work, possessions, encouragement, sympathy–
whatever my need, and that she knows I would be as quick to respond to whatever her needs may be.
Thank you that we can laugh together, cry together, rejoice together.
And although we may not see each other as often as we would like, when we do come together it is always the same.
Lord, bless and keep her, this person you fashioned and filled with qualities that have meant so much to me.
Lord, thank you for this very special friend…
My Mother.
Wake
2:00 pm - 10:00 am
Tuesday, April 5, 2022
Cold Lake First Nations Band Hall
Town Site
Cold Lake First Nations, Alberta, Canada
Leaving Bonnyville at 2:00 p.m. Wake Starting Tuesday and Ending Thursday
Mass of Christian Burial
11:00 am - 11:50 am
Thursday, April 7, 2022
St. Raphael's Roman Catholic Church
Legoff
CLFNS 149, Alberta, Canada
Interment
Cold Lake First Nations Community Cemetery
Legoff
CLFNS 149, Alberta, Canada