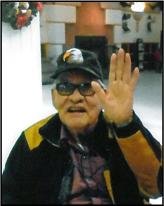 Obituary of Joseph Desjarlais
~~DESJARLAIS, Jonas
July 9, 1941 – November 30, 2017

On Thursday, November 30, 2017 Joseph Jonas Desjarlais of Cold Lake passed away at the age of 76 years. Jonas is survived by his step-son Dale Badger and numerous nieces, nephews, relatives and friends. Jonas was predeceased by his wife, Florence Desjarlais; step-son, Wilbert Badger; parents, Eugene and Mary Veronica Desjarlais; siblings, William, James, Julia, Albertine, Andrew, Marvin,
Bernadette, Henry, Nora, Mary, Cathy, William James and Louis.
Wake on Saturday and Sunday, December 2 and 3, 2017 at the Cold Lake First Nations' Spiritual Centre. Funeral Mass, Monday, December 4, 2017 at 11:00 a.m. at St. Raphael's Roman Catholic Church, Cold Lake First Nations with Father Thomas Dieu Nguyen as the celebrant.