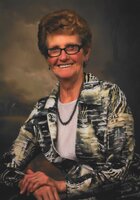 Marjoire Jenny "Marge" Lacquement
LACQUEMENT, Marjorie
February 16, 1937 – February 19, 2023
On Sunday, February 19, 2023, Mrs. Marjorie J. Lacquement of Bonnyville, passed away peacefully in her home at the age of 86 years.
Margorie will be lovingly remembered by her children; Sylvia Leguerrier, Arlene (Bryon) Reid, Noreen (Alvin) Kumpula, Art "Bing" (Donna) Yukim, Janice (Garth) Lindgren, Jimmy Yukim and Shelley Yukim, her stepchildren; Gloria (Bob) Graham, Iris Scott, Julia (Thor) Lacquement, and Chuck (Jean) Lacquement, 15 grandchildren and 14 great grandchildren and her sisters; Virginia Greschuk and Anna Mereniuk.
Marg was predeceased by her husband; George Lacquement, grandson; Jason Yukim and her parents; Henry and Lawvina Fisher.
A family graveside service will take place at a later date.