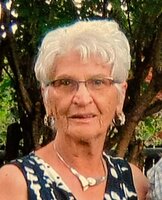 Stella Marie Marcotte
Stella Marie Marcotte, a loving mother, grandmother, sister and aunt passed away peacefully on May 4, 2022 at the age of 85 years.
Stella will be forever remembered and loved by her children: Reg (Yvonne) Marcotte of Kelowna, BC, Cliff (Charlene) Marcotte of Bonnyville, Dan (Jody) Marcotte of Lacombe, Cheryl (Don) Edl of Spruce Grove; her grandchildren that she loved dearly: Corbin, Cori, Travis, Kacy, Serena, Ashley, Ryan, Logan, Tyra, Micaela, Abby; sister: Lena Himech of Bonnyville; as well as numerous nieces, nephews, other relatives and many friends.
Stella was predeceased by her husband: Guy Marcotte; parents: John & Nancy Himech; brothers: Peter, Paul, John, Steve.
Funeral Service, Monday, May 9, 2022 at 11:00 a.m., St Louis Roman Catholic Church, Bonnyville. Inurnment will take place at a later date at St. Louis Roman Catholic Cemetery, Bonnyville.