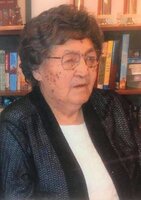 Agnes Collins
November 7, 1929 ~ February 13, 2022
Agnes Collins, a loving mother, grandmother, great grandmother, sister and aunt passed away peacefully on Sunday, February 13, 2022 at the age of 92 years.
Agnes is lovingly survived by her children: Louise Collins, Ruby (Simon) Sparklingeyes, Donald (Laurie) Collins, Lorraine Collins, Gary (Jenny) Collins, Joyce Collins, Brian (Sandi) Collins, Donna Collins, Randy (Joyce) Collins, Jason Collins; daughter-in-law: Marlene Collins; thirty three grandchildren; fifty two great grandchildren; twenty three great-great grandchildren; brother: Walter Desjarlais; as well as many other relatives.
Agnes was predeceased by her husband: Joseph Collins (2003); children: Doris Soloway (1986), Louis Collins (2007), Thomas Collins (2021), four infant children; three grandchildren; one great grandchild; one great-great grandchild; siblings: Annie Tourangeau, James Desjarlais, Lawrence Desjarlais, Madeline Heath, Marie Cardinal; half siblings: Mary Collins, Bella Cardinal, Albert Desjarlais, Julia Cardinal, John Desjarlais.
Wake, Thursday, February 17, 2022, Elizabeth Metis Settlement Hall, Elizabeth Metis Settlement.
Mass of Christian Burial, Saturday, February 19, 2022 at 2:00 p.m., at St. Marguerite d'Youville Roman Catholic Church, Elizabeth Metis Settlement with interment to follow at the Elizabeth Metis Settlement Community Cemetery.