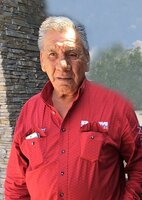 Clayton Trottier
January 8, 1951 ~ February 7, 2022
It is with profound sadness that the family of Joseph "Clayton" Trottier announces his passing on Monday, February 7, 2022 at the age of 71 years.
Clayton will be forever remembered and loved by his children: Tina Shaw (Casey), Tanya Shaw (Shane), Tamara Anderson, Tyson Anderson-Trottier; grandchildren: Tyrell, Tayton, Trinity, Traydon, Trianna, Tiarra, Tyrane, Terry, Tashayna, Taline, Tristan, Seth, Leland; great grandchildren: Torrian, Tylie, Talia, Trayvon, Janaya, Hendryx, Elias, Claudija; mother: Eva Bryant; mother of his children: Irene (Garry) Pollom; loving friend: Shannon Morin and her children & grandchildren which in his heart were his own: Marcella Morin, Kyle Cardinal, Lincoln Morin, Cambie Kroftsch; grandchildren: Geneva, Troy, Annabelle, Kalen, Cassia, Rochelle, Paige, Landon; furry companion: Baxter.
Clayton was predeceased by his grandsons: Torrie Trottier, Trey Durocher-Anderson; father: Edward Ted Calliou; son: Joey Morin; stepfather: Stan Bryant.
Wake, Saturday & Sunday, February 12 & 13, 2022, at the Fishing Lake Communiplex.
Funeral Service, Monday, February 14, 2022, at 11:00 a.m. at the Fishing Lake Communiplex. Interment to follow at the Fishing Lake Metis Settlement Cemetery.