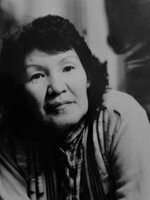 Elise Marie Charland
May 22, 1941 ~ January 22, 2022
It is with saddened hearts that the family of Elise Charland of Cold Lake announce her passing on Saturday, January 22, 2022 at the age of 80 years.
Elise will be lovingly remembered by her children: Rocky Charland, Ira Charland, Larry Charland (Beatrice), Glen John Charland (Barbara), Robin Young; grandchildren: Jayden, Layla, Cassius, Casandra, Candace, Farron, Tyson, Windwalker, Maureen, William; ten great grandchildren; siblings: Albertine Minoose, Vivian Martial, Bernice Martial, Georgine Noel; adopted siblings: Jeannette, Jeannie, Judy, Joy, Jackie, Gordon, Clifford, Leonard, Evangeline; adopted B.C. family: Evan Prince (Melody), Fred Murdock, Mark Langlais; as well as numerous nieces, nephews, other relatives & friends.
Elise was predeceased by her husband: Alex Charland (2004); son: Daniel (2013); Daughters: Maureen (1996), Teardrop (1963); siblings: Mary Catherine, Harry, Lawrence, Laura, Sarah, Armand, Paul, Valerie, Emma.