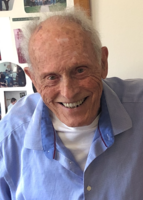 Russell McAllister
McAllister, Russell Bahan
Russell was born 1928, July 26, Sweetsburg, QC and passed away, 2021, September 4, Bonnyville, AB at the age of 93.
His family farmed in the Cowansville area of QC and then moved to Leitrim ON where Russ solidified his love of agriculture/farming.
Russell was in the farming business all of his life; from working his own farm, to Ontario Junior Farmers and ARDA, to the Saskatchewan Land Bank and Alberta Agriculture. Russ was also the farm editor and broadcaster at a radio station in the late 50's. He was consistently involved in the Lions Club and in the United Church. Russell was an avid jack of all trades; boating, fishing, sports, carpentry, singing, fudge, etc. He had a story for everything and for everyone, as his daily coffee group can attest. Russ had a huge heart, a love of nature, his family and an uncanny ability to get himself into & out of a pickle.
Russ was predeceased by his son Alec, and is survived by his loving wife of 69 years 361 days, Betty (nee Alexander), his sister Heather (King Armitage), his children, Glenn (Analee), Judy (Pat), Lynn (Derrick), daughter in law Nancy, Ian (Colleen), Cynthia, Fiona (Brad), thirteen grandchildren and twelve great grandchildren.
Service of Remembrance, Sunday, October 10, 2021 at 1:30 p.m., St. John's United Church, Bonnyville, Alberta.
In lieu of flowers, memorial tributes in memory of Russell may be sent to the Heart and Stroke Foundation.
Forever in our hearts and minds.
Respectfully, the McAllister family