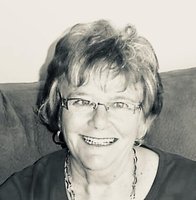 Cheryl Rae Jordan
JORDAN, Cheryl
February 23, 1950 – February 21, 2018
It is with great sadness that the family of Cheryl Rae Jordan announce her passing on February 21, 2018 in Bonnyville, Alberta.
Cheryl was the only daughter born to Wallace Barclay and Lila Doris Clarke in Virden, Manitoba on February 23, 1950. She will be remembered for her strength and resilience and her unabashed sense of humour. Cheryl loved her family and was a proud grandmother. She was a voracious reader and enjoyed spending time outdoors, particularly in her garden and at her second home at Crane Lake. She spent her winter days crocheting while watching curling. Cheryl was a compassionate animal lover; her love for animals stemmed from her rural upbringing and the human-animal bond carried her through life.
Cheryl is survived by her two brothers, Gavin and Derwin (Laren) Clarke. She leaves to mourn her husband of over 48 years, Larry Jordan; two daughters: Melinda (Maggie) and Miranda (Martin), one son Tyson, and her precious granddaughters, Lila and Leighton. Cheryl was predeceased by her parents, her brother Bobby, and her beloved first grandchild Presley.
As per her wishes, no public memorial will be held. A private celebration of life will be held in her honour. The family wishes to thank staff at the Bonnyville Medical Clinic and the Bonnyville Health Centre for their empathy and compassionate care. Memorial tributes in memory of Cheryl may be made to Pancreatic Cancer Canada and the Edmonton Humane Society.