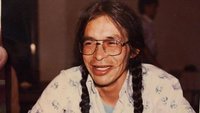 Vernon Joseph Muskego
~~MUSKEGO, Vernon Joseph
November 9, 1950 – September 16, 2017

On Saturday, September 16, 2017 Vernon Joseph Louis Muskego of Edmonton passed away at the age of 66 years. Vernon will be remembered by his survived by his son and daughter; Ryan Muskego and Anna Cousins, 3 granddaughters, siblings; Bernice, Muskego, Marcel (Beatrice) Muskego, Felix Muskego, Robert (Monica) Muskego and
Carmella Muskego (Leo). Vernon was predeceased by his parents: Pierre and Caroline Muskego, siblings; Francis, David, Helen, Lawrence, Martha and Brenda. Wake Thursday and Friday, September 21 & 22, 2017 at the Spiritual Centre, Cold Lake First Nations 149. Mass of Christian Burial, Saturday, September 23, 2017 at 11:00 a.m. at St. Raphael's Roman Catholic Church, Cold Lake First Nations 149 with Father Thomas Dieu Nguyen as the celebrant. Interment followed in the Cold Lake First Nations Community Cemetery.